We are really proud to announce our charity partnership with National Star.
With two events under our belt we are looking forward to helping raise more funds for it's work enabling young people with disabilities to realise their potential through education and personalised learning opportunities, and by providing other transition and accommodation services.
The college itself offers programmes that are tailored to meet individual aspirations and abilities, with a strong emphasis on creative and performing arts, sports, communication skills and life skills. Learner progress is monitored through the setting of individual goals and targets, and a strong multi-disciplinary team, including speech and language therapists, physiotherapists, occupational therapist and behaviour specialists, ensure a holistic and person-centred approach is taken.
The amazing and inspiring National Star Fire Walk is where we started our fund raising activities and just last week we hosted what proved to be a very popular cake sale. Thanks to the generous clients and job seekers who so kindly made donations and bought the very tasty cakes lovingly made by members of our team.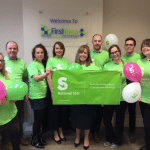 If you would like to know more about the fantastic work National Star undertake and how you could help, please visit their website.