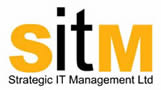 Recruitment Case Study – SITM
Case Study: Strategic IT Management, Quedgeley, Glos
Independent suppliers of tailored IT support solutions across Gloucestershire and beyond.
The requirement: When SITM recently experienced an increase in business, they needed to grow their team, fast! Despite receiving two to three calls a week from employment agencies, many from "specialist" IT recruiters offering CV's based solely on the basis these were IT people, and SITM are an IT company, SITM contacted First Base.
What we did:
First Base Employment took the time to talk through SITM's exact requirements, this enabled us to fully understand not only the current requirement, but also their team and business and how this role fits within the current set up. We then used the information gathered to tailor a recruitment process to the individual vacancy. Given that our clients need was time critical, we immediately contacted candidates already registered on the First Base database, as well as launching an online recruitment campaign designed to match SITM's brief. Very quickly, we were able to source people with relevant skills and experience, and met with them face to face in order to ensure they would suit both the role and SITM. We quickly arranged interviews and the successful candidate started work almost immediately.
The result: The successful candidate remains in place today, very happy in their work, SITM are extremely pleased with both the speed of service provided by First Base and the suitability of their new team member. All of this was achieved at a far lesser cost to SITM than would have been charged by "specialist" IT agencies. Whilst they have not had any requirements since, SITM and First Base remain in frequent contact and continue to build a working relationship and SITM know that they can rely on First Base as they continue to grow and flourish.
To date we have recruited:
IT Support Helpdesk personnel (1st line)

Location
9-10 Rowcroft, Stroud, Gloucestershire, GL5 3AZ
Email
enquiries@first-base.co.uk