The world for both employers and those seeking work is constantly changing.
National and local politics, the economy, technology and the ever changing expections of customers are just a few of the issues that face employers and those seeking work. Change has always been a part of business and experts seem to agree that the pace of change has never been so rapid as it is today.
In order to help local organisations keep up with the rate of change, to suport them in finding the talent they need to sustain long term success and for those seeking work to find the right role and career, we run several events every year.
Supporting employers:
2017 is our 20th year of providing recrutiment services from our base in Stroud. We recently launched the First Base 'Better Recruitment Campaign' – providing useful information and guidance to local organistions about how to attract, recruit and retain the best employees.
For the Autum are planning a 'Better Recruitment' seminar with expert speakers and facilitated panel discussions. We will be anouncing more information soon, in the meantime if you would like to know more contact the founder and MD of First Base tricia.hay@first-base.co.uk
Supporting local people seeking work:
Weekly open mornings
From 11.00am until 2.00pm every Wednesday we provide free CV and interview advice. Please drop in and find out what our clients are looking for from a great employee. You can find out more by contacting enquiries@first-base.co.uk or phone 01453 755330
Supporting young people:
Getting young people ready for the world of work is one of our passions and we support the Skills for Stroud Employability Charter. Skills for Stroud is setting the standard for employability activities for young people, providing businesses with accrediation to ensure that their work to help yound people genuinely equips them for the world of work.
From work experience to mentoring, mock interviews and helping young people with their future career choices, investing in young people today provides a great way to attract new recruits and build the workforce of the future.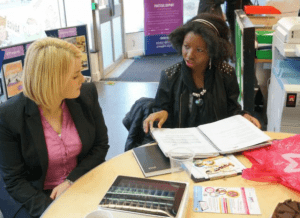 Schools and University Events
In conjunction with schools, colleges and universities we provide mentoring, mock interviews as well as Dragons Den and The Apprentice type events. For more information about our investment in the workforce of the future click here.
Work4Youth Events
The Work4Youth campaign is an initiative designed to help young people get into work by partnering with Young Gloucestershire, a county-wide youth work charity that supports young people to achieve their full potential, First Base, as part of their 'Work4Youth' programme, offer events aimed at improving young people's employability.  For more information you can click here.